Greeny & Pena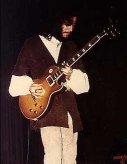 Peter Green
Guitarist Peter Green (Wikipedia) is possibly my favorite guitarist, eventually emerging at the top from a crowd including the likes of George Harrison, Eric Clapton, Mick Taylor, Duane Allman, Carlos Santana, and Stevie Ray Vaughan. And I like him best when he's playing in the style of the great B. B. King, which limits my listening to Green's John Mayall and Fleetwood Mac gigs. He had some nice moments in subsequent years, but they lacked the fire of his earlier playing.
For years, my favorite Fleetwood Mac song was "Stop Messin' 'Round". (For Mayall with Greeny, my favorite song is "It Hurts Me Too".) Then, a few months ago, I became enamored of the live Shrine '69 version of "If You Be My Baby", a B. B. King-like song written by Peter. This performance is too short, but oh so sweet - the searing guitar cuts through your mind like a hot knife through butter.
Shortly after rediscovering Shrine '69's "If You Be My Baby" (video below), I took notice of "If You Let Me Love You" off of the third volume of the Boston Tea Party set. This is a cover of an actual B. B. King number ("Let Me Love You"), so it is right up Green's alley. He only sings a couple of the verses, but, through beautiful use of the dynamics of volume, he seems to make the guitar retreat and then, at points of climax, dive into the lava. Breathtaking!
Almost daily, I run through the following sequence of songs on my iPod:
"If You Let Me Love You",
"Loving Kind" or "Tiger" (all from the Boston Tea Party, volume 3),
"If You Be My Baby" (Shrine '69),
"Jumping At Shadows" (Jumping at Shadows: The Blues Years), and
"Jet Airliner",
the latter written and performed by ...
Paul Pena
Paul Pena (Wikipedia) wrote and recorded "Jet Airliner" in 1973 for an album, Night Train, produced by Steve Miller's keyboard player, Ben Sidran. There was a dispute with the record label resulting in the album not being released untl 2000, 27 years later. Pena, blind and long plagued with ill health, passed away in 2005.
Every cloud does have a silver lining, though. Sidran played the unreleased tape for Steve Miller. Miller rewrote the lyrics to "Jet Airliner" and turned it into a stadium-rock anthem. The royalties generated by Miller's hit would support Pena through his wife's unsuccessful battle with cancer and his own poor health.
Millions of people, including me, love Steve Miller's "Jet Airliner". But then I heard the original, which blows Steve Miller's version out of the water. First, the original lyrics are darker than Miller's and have a hint of desperation. Second, there is a glorious lead guitar that plays throughout the song, not just in the solo. I'm not sure who the lead guitarist was, but it is amazing. (In a 2001 appearance on Late Night with Conan O'Brien, Pena plays a low-key electric guitar solo.)
I found the rest of the Night Train album to be lackluster, but it's worth the purchase price for "Jet Airliner" alone.